WE CARE PASSIONATELY FOR THE HEALTH AND WELLBEING OF EVERYONE IN OUR COMMUNITY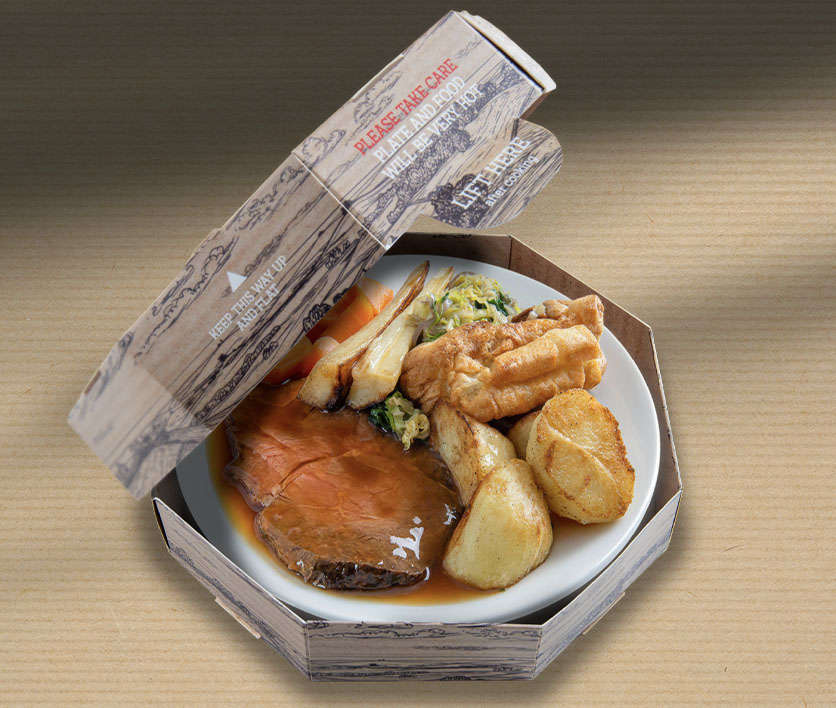 Devon Food for Devon People
By carefully preparing and delivering excellent quality food, we hope to give everyone a truly 'Deliciously Satisfying' mealtime experience.

So whether you're buying for yourself or for a loved one, the satisfaction should extend beyond the food, knowing that every penny of profit goes to supporting Rowcroft Hospice to assist them in delivering their amazing care.

We hope you enjoy our tasty and nutritious meals and desserts, safe in the knowledge that you are supporting your local community.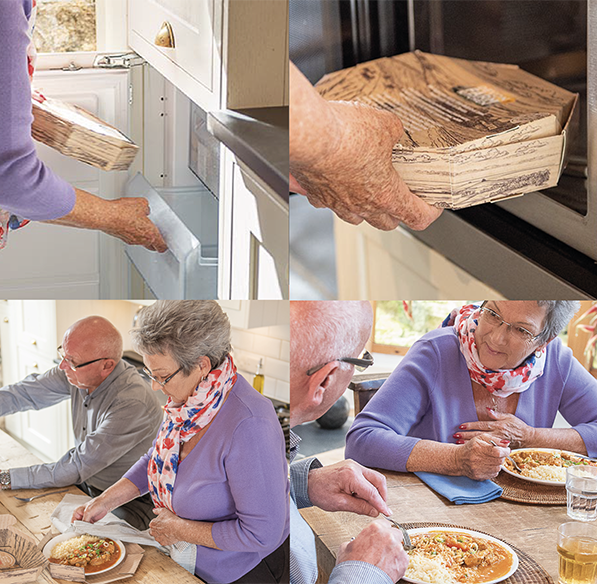 Making life easier...
FROZEN FOR FRESHNESS
All of our dishes are prepared by our chefs and dietitians in Devon, hand-cooked and then frozen to lock in the freshness and give you the flexibility as to when you choose to eat them.

EASY TO COOK
It's so simple – just remove the sleeve. You put the whole box directly into the microwave or oven, straight from the freezer and follow the cooking instructions (in large print) on the inside of the sleeve. Then, open the box, check the temperature before you eat, (as appliances may vary) and enjoy!

WE USE CERAMIC PLATES & BOWLS
When you open the box you'll immediately see one of the things that makes us different - all our meals and desserts are served on ceramic plates and bowls... not in plastic trays! So, no fiddly removal of films or decantering from plastic pots – just delicious meals that are ready to be heated and enjoyed. All we ask is that you wash up the plate or bowl!

ECO-FRIENDLY PACKAGING
Our driver will then collect the plates and bowls on your next delivery, ensuring we keep packaging waste to a minimum to protect our planet. Our boxes and sleeves are completely recyclable, as we've used compostable, carbon neutral board.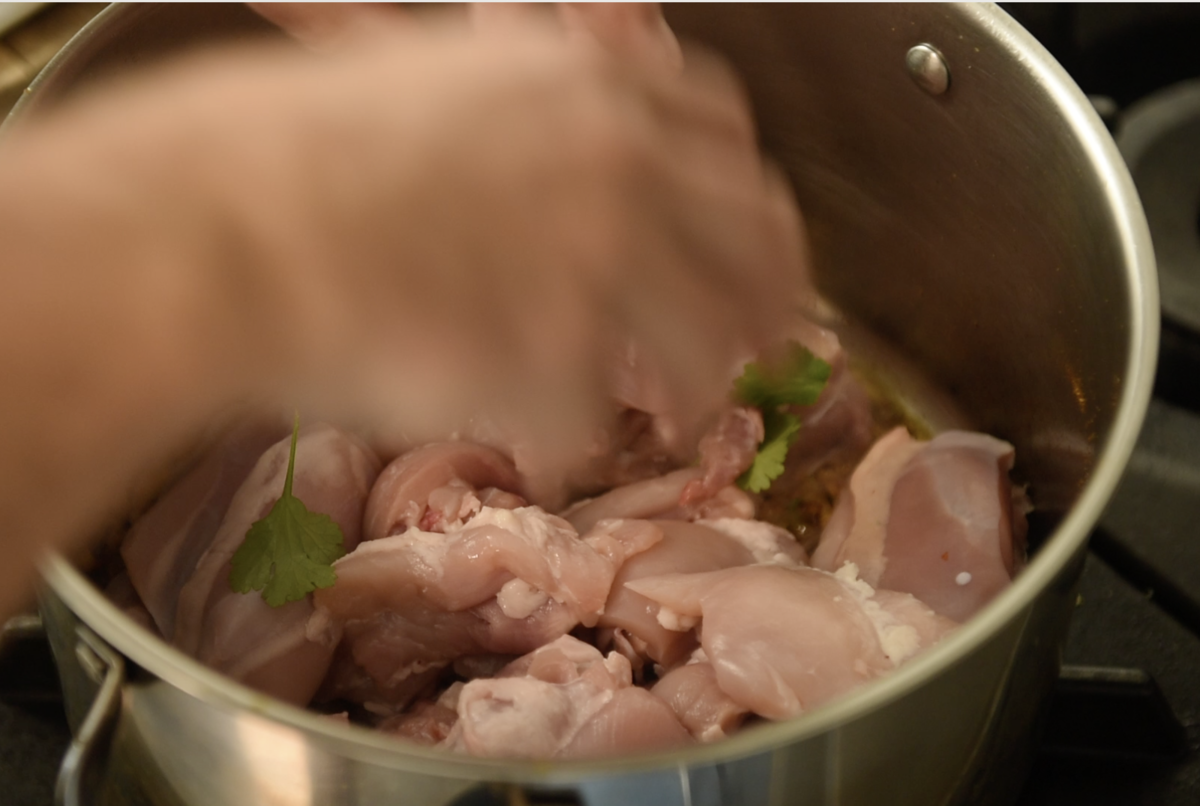 Keeping it local...
HANDMADE IN DEVON
When you think of Devon, you instantly think of its beaches, wonderful coastal waters, fertile lush rolling green hills, the moors and some of the best producers of quality food & drink in the country.

All our food is lovingly handmade by our chefs and dietitians in Devon, taking advantage of these wonderful resources right on our doorstep.

Our food is made in a traditional kitchen environment, not mass produced. We are not able to guarantee our dishes are allergen free, but we still maintain the highest standards of hygiene and we use traditional cooking methods and recipes to provide you with that homely food experience.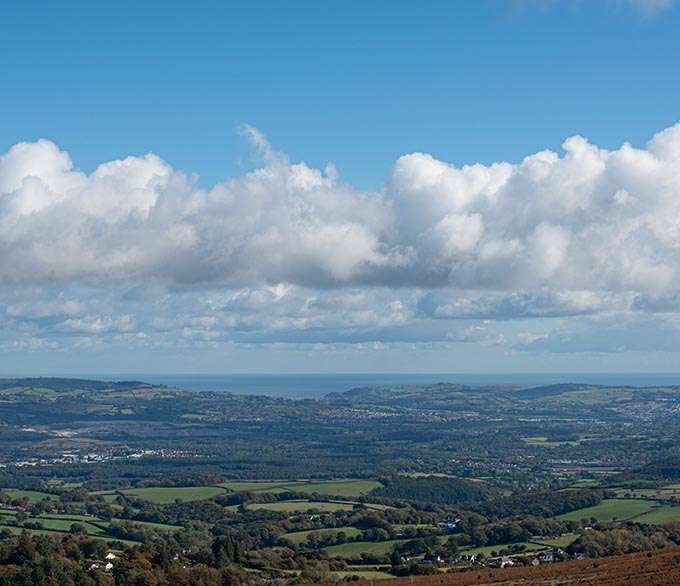 Supporting local
We all just love great food here at Devon Farm Kitchen and it's our passion to source the best ingredients for the dishes we prepare for you. We pride ourselves on knowing the provenance of our ingredients. Our famous Brixham fish pie, you guessed it… is full of fish straight from the market at Brixham harbour. We can trace our meats right back to the farm and we use sources that meet the highest welfare standards. We believe local matters, so we support our local farming and fishing communities. It also helps us to reduce our carbon footprint.
CONTACT US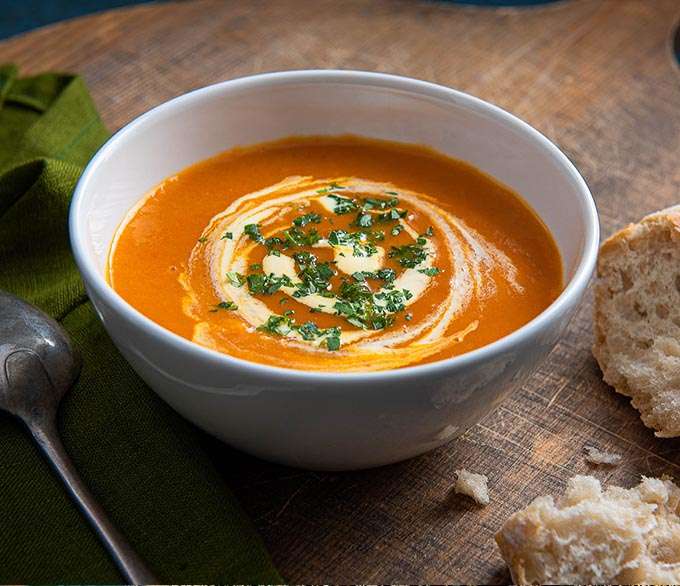 Home delivery
There's no minimum order, but we do have to make a small delivery charge of £3 for orders under £30. Spend over £30 and delivery is free! All orders are delivered on specific days (depending on your address) within Torbay and South Devon by our dedicated and friendly drivers. Check our website or give us a call to find out which areas we deliver to on specific days. You will need to be at home for the delivery as we cannot leave your frozen meals in a 'safe place' or with a neighbour.
CONTACT US
Every penny of profit generated from buying our Devon Farm Kitchen meals, supports Rowcroft Hospice
Devon Farm Kitchen is an exciting new social enterprise, established by Rowcroft Hospice, for the core purpose of generating much-needed income, to enable the Hospice to continue to deliver outstanding specialist palliative and end-of-life care, free of charge.

Last year, Rowcroft cared for over 2,600 patients across 300 square miles of South Devon, with 80% of these patients being cared for in their own home or care home.

A specialist team of nurses, doctors, social workers and therapists are dedicated to making every day the best day possible, providing comfort and support to patients and families coping with the hardest days. A multi-disciplinary approach ensures the hospice provides for medical, emotional, social, practical, psychological, and spiritual needs.

Rowcroft is driven by its charitable objective and aims to meet the forecasted increase in demand for its services head on, by extending end-of-life care to 3,000 patients per year by 2030. To achieve this, the charity needs to develop new income streams and become less reliant on traditional forms of income - which have been severely affected during the recent pandemic.

In purchasing these 'Deliciously Satisfying' meals from Devon Farm Kitchen, for yourself, friend or loved one, not only will you be eating great food, you will be helping Rowcroft in its amazing work caring for your local community, so we thank you.
FIND OUT MORE & EVEN DONATE